Promotion of Academic Research, Science and Technology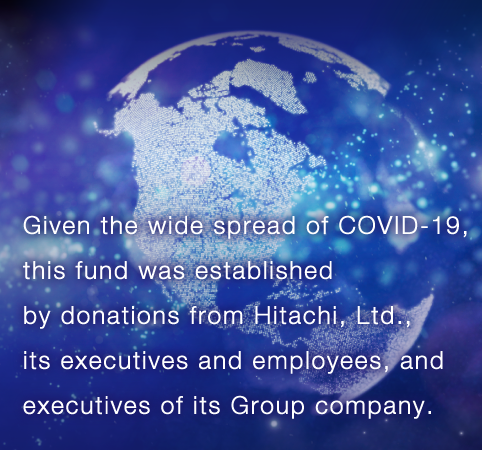 *Applications for this fund have been closed in FY2021.
Overview
In our global society, where social and economic activities are complexly linked, the pandemic of COVID-19 has caused personal, economic, and social impacts in every country and has also highlighted many vulnerabilities and issues in a variety of fields including politics, economy, legal systems, science and technology, and international relations. We need to share knowledge and lessons learned from the hard time to build a more resilient society, while also working to end the pandemic.
In order to contribute to promotion of academic research and science and technology, The Hitachi Global Foundation has been offering research support to researchers in the humanities and social science field as well as those in the science and technology field. Today, The Hitachi Global Foundation has established a grant program by donations from Hitachi, Ltd., its executives and employees, and executives from its Group company based on our vision. This fund is to provide grants for evidence-based research projects aiming to academically research, analyze, and study the various issues that have surfaced due to the pandemic of COVID-19, and then share the learnings internationally.
Eligible Fields
Eligible fields include research and analysis, and comparative analysis on the effects of COVID-19 on civic life, politics, economy, legal systems, science and technology, communities and international relations from a perspective of humanities and social science, policy science, and social medicine, but it is not limited to research on COVID-19. Clinical or biomedical research is not eligible. The target country for research is not limited to Japan.
Example:
Utilization and application of data for regulatory science in the medical field
Mid- to long-term social impacts and international aid in emerging countries
Social acceptance and tolerance of scientific advice and political and administrative decisions
Public communication with the government, media and science community, and behavioral change
Compatibility of infection prevention and economic policies
Potential for lifestyle transformation and of the future of urban design
Contact
The Hitachi Global Foundation
"Hitachi Fund Support for Research Related to Infectious Diseases" Administrative Group
6-1, Marunouchi 1-chome, Chiyoda-ku, Tokyo 100-8220
E-mail: fundsupport@hdq.hitachi.co.jp